The Christmas season is filled with sights, sounds, tastes, smells, and feelings that not only make precious memories but also deeply connect us to our savior, Jesus Christ, as we wait in anticipation.
Globally, many children have never experienced the real JOY that Christmas can bring. The Share Your Christmas Joy fundraiser is designed to give those children that unique feeling of excitement, love, and joy that only happens during Christmas time.
This program aims to send special designated funds to 75 Salvation Army Children's Facilities worldwide for a special Christmas celebration.
Not only will the children feel more connected to our Savior as we celebrate the JOY of his birth, but you will too when you Share Your Christmas Joy!
Will you help us reach our goal? Ask your family, friends, and coworkers to join!
While funds are collected for SYCJ year round, funds must be received by November 14th in order to be sent to the children's homes this year.
To donate online, please visit this website.
You can also mail checks to our office with the address below:
Sponsorship Office – Share Your Christmas Joy
5550 Prairie Stone Parkway
Hoffman Estates, IL 60192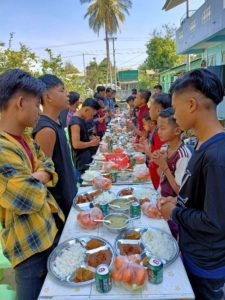 Photo from last year's celebration at Phyu Children's Home in Myanmar
Click below to download the 2021 Share Your Christmas Joy mailer!