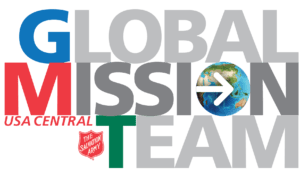 What are Global Mission Teams (GMTs)?
The Salvation Army in the Midwest (Central Territory) offers an opportunity for people involved in The Salvation Army (Salvationists) who are 18 or older to participate in one or two week missions experiences through the GMT program.
The primary purposes of the teams are:
To establish a partnership between team members and in-country personnel
To develop awareness of other cultures and The Salvation Army worldwide
To make an impact on the global work of The Salvation Army
To foster personal growth
To encourage consideration of long-term overseas service
Qualifications for GMT Applicants

Actively attend a Central Territory Salvation Army corps
Must have the endorsement of the Corps Officer and Divisional Headquarters.
Visibly demonstrate love for God and compassion for others.
Emotional and spiritual maturity
Knowledge of the Bible
Evangelistic zeal and a clear personal witness
Tolerant personality / Even temperament
Friendliness / Approachability
Specific skills / experience in teaching, public speaking, evangelism, gospel arts or construction may be required for certain mission teams.
With the exception of the project manager, individuals who have not previously served on a Global Mission Team will be given preference in the selection process.
 Upcoming Global Mission Team Opportunities
Dates
Location
Ministry
Cost
Status
October 26-November 3, 2019
Bluefields, Jamaica

Caribbean Territory

Construction Trip
$750
Applications due July 15, 2019
January 18-28, 2020
TBA
Program & Project ministry
$1,000
Accepting applications
April 13-24, 2020
TBA
Program & Project ministry
 $1,000
Accepting applications
Are you ready to apply to serve on a Global Mission Team?
Apply online by clicking here.  After submitting your application you will receive an automated confirmation email.  Also be sure to download/print this GMT endorsement form 2019 to give to your Corps Officer to secure required corps and divisional endorsements.
Applications will remain on file for possible placement for one year from the date received. There are many considerations when selecting team members including specific skills, missions experience, and previous GMT service. For additional details or questions, contact us as [email protected] or call 847-294-2108.