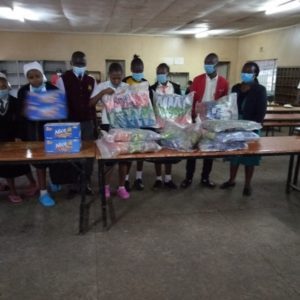 Recently, we heard from Joytown Special Schools in Kenya East. Over the last year and a half these schools have endured many hardships but there have also been moments of hope and goodness. Here you will find an update from Joytown Special Schools, which consists of a Primary and Secondary School in addition to dormitories for boarding students. Please continue to pray for our brothers and sisters in the Kenya East Territory.
Joytown Special Schools are doing well despite the challenges that we face daily. The students continue with their learning progress as scheduled by the school administration that abides to the guidelines from the ministry of education. The schools have experienced an increase in students which shows the trust that the entire community has in the schools' progress. This kind of support is essential in building the reputation of the institution. The schools have also been able to offer job opportunities to some of the members of the community.
Despite the outbreak of the COVID-19 pandemic the institution has realized some growth in terms of academics and infrastructure. The following are some of the areas in which we have realized positive progression.
 Spiritually 
Despite the challenges brought by the pandemic, we have managed to hold spiritual meetings, guidance, and counseling. We are blessed to be able to continue having these while also adhering to the directives given to us. This is achieved through conducting our holiness and prayer meetings outside the halls so that we can practice social distancing. This has helped both schools have minimal disciplinary cases and brought about spiritual growth in the lives of students and staff.
Performance
In both schools we have realized some improvements concerning the national exams.
Infrastructure 
In the midst of the COVID-19 challenges we managed to add a new boys' dormitory which was constructed to supplement the existing four boys' dormitories. The newly constructed dormitory has a capacity of accommodating 60 students.
Challenges 
Currently we are facing a problem of insecurity in which thieves are invading both schools running away with wheelchair parts. They also tried to steal one of the teacher's vehicles but fortunately the watchmen heard them and countered the thieves.
The two paths from the main gates are not wheelchair friendly and need to be carpeted. The schools are in need of repairing dormitories and classroom floors which are a hindrance to our physically challenged students.
Due to the increase in population of the learners and need for social distance due to COVID-19 protocols, the schools require new classes and dormitories. There is also a challenge of understaffing of non-teaching staff which jeopardizes smooth running of the institutions. Food scarcity is also among the problems endured in both schools.
We thank God for enabling us to attain several achievements despite the hard times brought about by the pandemic. We are looking forward for a better and improved institution because everything in God is possible.
Prepared and compiled by
BENJAMIN KIMANTHI
LIEUTENANT 
CHAPLAIN JOYTOWN SPECIAL SCHOOLS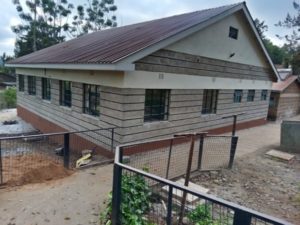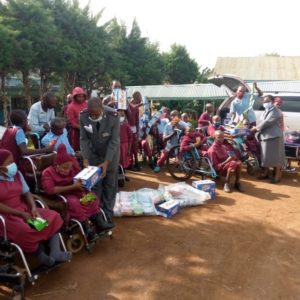 Officers from THQ visiting with snacks