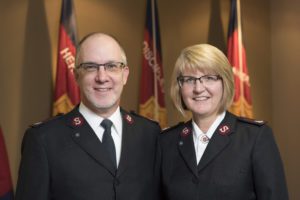 Lt. Colonels Philip & Sheila Davisson
Officer Commanding / Command President of Women's Ministries
Spain and Portugal Command
Lt. Colonels Philip and Sheila Davisson currently reside in Lisbon, Portugal, where they oversee The Salvation Army's work in both Spain and Portugal.  In the past they have served as corps officers in Chicago and Aurora, Illinois and Port Huron, Michigan. In between pastoral assignments, they were on staff at The Salvation Army Training College in Chicago, where Philip was first the Property Officer, and then the Director of Curriculum, and at the Training College in Santiago, Chile, where Philip was the Education Officer, and later the Territorial Secretary for Education for the South America West Territory of The Salvation Army, covering Chile, Bolivia, Peru and Ecuador. Sheila was the Education Officer in Chicago, Finance Officer in Chile and Assistant to the Program Secretary for the South American West Territory. They also served in the Canada and Bermuda Territory at Booth University College and the College for Officer Training.
Personal information includes that Sheila and Phil have celebrated over 30 years of marriage; health is good, and faith solid.  Their children and grandchildren all live in the United States.