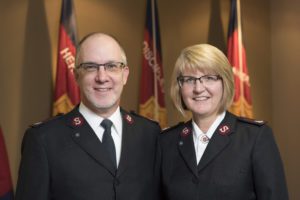 Lt. Colonels Philip & Sheila Davisson
Officer Commanding / Command President of Women's Ministries
South America East Territory
Territorial Leaders of The Salvation Army – South America East which includes Argentina, Paraguay, and Uruguay as of February 1, 2022.  They have just spent the last four years as the Command Leaders of Spain and Portugal where there is a beauitful expression of ministry and in 2021 celebrated 50-Years.  They are so grateful for the many opportunities to see The Salvation Army mission happening around the world including South America West, Canada, Spain & Portugal, and of course USA Central.
They have three children who are all happily married and Christians.  They all live in the United States with Phil and Sheila's four grandchildren.