September might be a little bit too early to celebrate Christmas – but it is not too early to Share Your Christmas Joy!
Share Your Christmas Joy is a campaign that sends your donations to Salvation Army Children's programs, homes, and schools worldwide for a special Christmas celebration!
Last year, we heard from a few homes in the Singapore, Myanmar, Malaysia Territory, who described how they used our donations to help them celebrate Christmas in a special way.
The Penang Children's Home in Malaysia celebrated in this way:
"Your generous Christmas meal contribution was an added blessing for all the residents to enjoy KFC as their meal. It was a moment of joy in spite of the ongoing pandemic which is still affecting the world."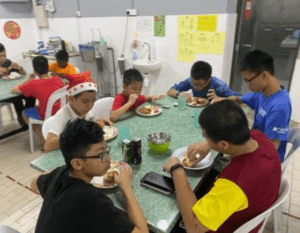 From the Ipoh Children's Home in Malaysia:
"The centre has arranged for a simple buffet in Western style (spaghetti, grilled chicken, salad, chicken nuggets, and cupcakes). The children had a good time, and they enjoyed their meal very much. It was a blessing to have such a meaningful day."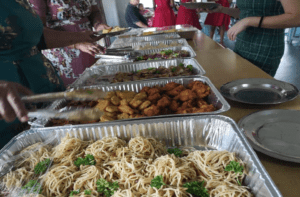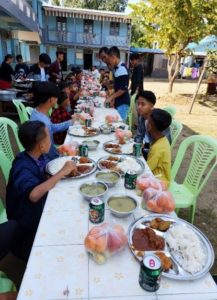 Lastly, a photo from the Phyu Children's Home in Myanmar
enjoying their Christmas meal:
As we face hardships, we must continue to make room for celebrations. During difficult times, it is important to embrace familiar rhythms of life. Often celebrations are the first thing to be removed. They are the first to be deemed unnecessary, not essential, or frivolous. But celebrations make us feel connected to one another. More importantly, Christmas is a time to connect with our Savior, Jesus!
Christmas is a time filled with JOY and it is our hope that Share Your Christmas Joy would allow for children to experience the unique feelings of anticipation, hope, and JOY that only happens during Christmas time.
This year, it is our goal to raise $7,500 to send to 75 homes and schools by November 14!
To make donations to this cause, click here or you can mail a check to THQ with this address:
Sponsorship Office – Share Your Christmas Joy
The Salvation Army
5550 Prairie Stone Pkwy
Hoffman Estates, IL 60192