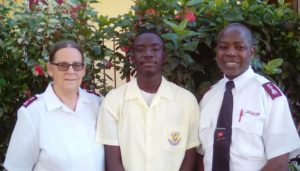 Majors (Dr.) I. Felix and Violet Ezeh, Matthew
Corps Officers
St. Maarten
Caribbean Territory
"We daily rely on God and often don't know when he's been guiding, protecting and using us for His work." – Major Violet Ezeh
Little did Violet Doliber know that in 1995 when she accepted the challenge of moving to Antigua to run the Sunshine Girls' Home the experience would completely change her life.
Happily, she served in Antigua for five years and began to develop a friendship with Dr. Felix Ezeh, a native of Nigeria, who was working in the optical business. The two car pooled to the local corps (center for worship and service). During this time Felix felt God calling him to serve as a Salvation Army officer (minister). Felix moved to Jamaica to enroll in the Caribbean Territory's College for Officer Training. The friendship blossomed into a romance and they were married in 2001, after Felix completed his two years of training.
Now ordained, The Salvation Army assigned Felix to be the administrator at the Bethel Medical Clinic in Fond-de-Negres, Haiti and Violet was transferred to Haiti where she served as the administrator for Bethany Children's Home. While at Bethany Children's Home, Violet started a "Learn-2-Read" program, kids' clubs, English classes, Bible studies and self-help projects to teach adults specific trades. She also established a program for the older children of the home in which they could become house parents for the younger children and in return earn their schooling, room and board.
On April 30, 2002, another event changed Violet and Felix's lives forever. Violet tells the story, "A woman came to the clinic in the midst of labor pains to find a place to deliver her twins. Her condition was very critical due to eclampsia. The staff assisted her since there were no alternatives. The baby girl was still born and the baby boy needed a lot of assistance to begin breathing on his own. Unfortunately, the mother died shortly after delivery. The father, overwhelmed at the prospect of caring for a newborn along with six other children and no steady employment, decided to leave the baby at the clinic. This was a difficult decision but understandable since the cost of baby formula is very expensive. So, on Mother's Day [2002], little Ikechukwu Matthew moved upstairs from the pediatric ward to our apartment." On July 30, 2003, Matthew (whose name means "God's gift") was officially adopted by the Ezehs.
The Ezeh family served together in Haiti for 11 years, then served in corps appointments in Trinidad and Tobago and Kingston, Jamaica.  During the summer of 2019 the Ezeh family moved to the island of St. Maarten where they are now serving as corps officers.